Queen Contestants
Contestants for the 2019 Freedom Rodeo are, from left: queen contestant Sadie Crusinbery, princess contestant Shay Wilson and queen contestant Kaylen Gaskill.
Queen contestants were able to introduce themselves upon attending the evening's event. Sadie Crusinbery of Alva and Kaylen Gaskill of Waynoka will be competing for this year's queen title. Princess contestant Shay Wilson will compete for her title. Shay is an elementary school student at Freedom and the daughter of Shan and Ronna Wilson. "I have family that competed, and I love to ride horses," Wilson said.
Because the Freedom rodeo is so well known, this helps the committee reach out to potential contestants. "I have numerous family members that have done it," Crusinbery said. "It has always been a dream of mine."
Not only is this rodeo a big part of Freedoms history, it is also part of the history of surrounding communities. "My aunt was the Freedom Rodeo Queen 22 years ago," Gaskill said. "These are really good people, and this is a really good rodeo."
Items that will be awarded to the contestants were auctioned off by auctioneer M.J Odgen. Weber and the contestants assisted the auctioneer by taking various items and walking them around the venue for interested participants to see. Highest paying items included the Old Cowhand's belt buckle for $1,000, the princess' horsemanship belt buckle for $525, queen horsemanship belt buckle for $325, the queen belt buckle for $500, the Queen crown for $300, the queen trophy saddle and breast collar for $800 and the princess trophy saddle and breast collar for $700.
Other auctioned items included various desserts made by community members such as a coconut crème pie made by Louise Darr that was auctioned off for $110. All proceeds made at the auction will go into the queen committee account.
"We are glad to be able to do this," Rodeo Queen Committee chair Dalene Dauphin said. "It is good for the girls who are running for the queen and princess titles. They have to go through the whole pageant process, and it teaches them a lot. It's good for our little town; what money we collect through the rodeo goes back into the chamber, which then helps our school and other community events and issues. I'm just thankful for all that came and supported us."
Freedom will soon see a new rodeo queen to represent the community. "I grew up in the Freedom community and went to high school here and I feel very honored to have been the Freedom Rodeo Queen," Weber said. "Good luck to the rodeo queen and princess contestants."
The 82nd Freedom Rodeo and Old Cowhand Reunion will be held on Aug. 15, 16 and 17. Donations for the Benefield Memorial can be made by calling Patricia Dauphin at 580-430-8113.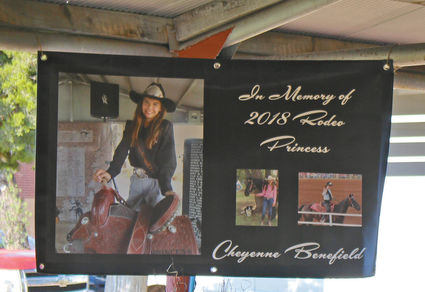 This banner was made in memory of Cheyenne Benefield.